Long Range Folding Electric Bike - STT-S
Hub Motor


1200W (Peak) 750W (Sustained),



Battery


48V/15Ah(720Wh) lithium battery





Range
35~55 miles (57~90 km)

Display


YL80C LCD Display



Throttle


Thumb throttle



Charger


US standard 2.0 A smart charger




Pedal Assist




3, 5, 7, or 9 levels (default 5)




Controller




48V/25A



Crank Set


210mm w/52T

Frame


6061 Aluminium



Tires


CST 20"*4.0 Fat Tire



Shifter


Shimano M310 8 -Speed



Brake


Dual Piston Hydraulic Brakes 180mm



Front Fork


Suspension with Adjustable Lockout



Kickstand


Heavy duty aluminum



Freewheel


12-32T 8-Speed



Pedal


Wellgo Aluminum Platform



Saddle


Soft and comfortable



Front Light


48V LED light



Rear Light


Integrated Taillight



Speed


Up to 25 MPH



Wiring


Water resistant connectors and wiring harness



Rims


Double Wall Aluminum 36H Front & Rear



Included


Battery, charger, assembly guide, user manual



Tesgo ebikes are built to the IPX6 water-resistant standard. IPX6 means that your bike is resistant to water splashes from any direction. Which means it's OK to ride or park your ebike in the rain. It won't be harmed by spray from a wet road or raindrops. Your ebike is not intended to be submerged or subjected to a pressurized spray. Don't use a pressure washer or sprayer to clean your ebike.
Handlebar

Height
48-53"
Seat Max Height
40.15"
Handlebar Width

26''

Seat Min Height
32.2"

Top Tube
26.37"
Foldable Size
40.55"*19.68"*31.49"
Standover Height
27.17"
Wheel Diameter
20"
Head Tube
6.49"
Total Length
70"
Chain Length
16.53"
WheelBase
47.24"

Bike Weight

66.2 lbs

Package Weight

88.2 lbs

Load Capacity

330 lbs

Rider Heights

5'3"- 6'4"
Allot of bike for your money
Hardware and frame is quite impressive for the price. Paint job is not great and the solution they provide is to send a paint pen for chips in the paint. It's packaged extremely well and the box wasn't damaged, so it likely leaves the factory this way, which is quite disappointing as the company will blame it on shipping.
Outside of that one negative, the overall bike is great. Hard to complain. Plenty of power to get up hills and I'm 275lbs. Battery life is great too. On flat ground, my longest ride so far has been 22 miles and I still had 35-45% battery life left. As for size when folded, I've been able to fit two of these in the back of a Prius with the seats folded down. I've also have had one in a Scion TC without issues either.
On Throttle only, I've reached 26mph on flat. With pedaling very fast and hard, I've hit 30mph. Going down a long hill, I've reached 42mph, but that's mostly gravity.
If you can accept paint issues, the bike is great and recommended.
If you want more information, please feel free to leave a comment in my YouTube video and I'll be more than happy to respond and make better videos with me actually talking as well about experience and all as I now have 109 miles ridden.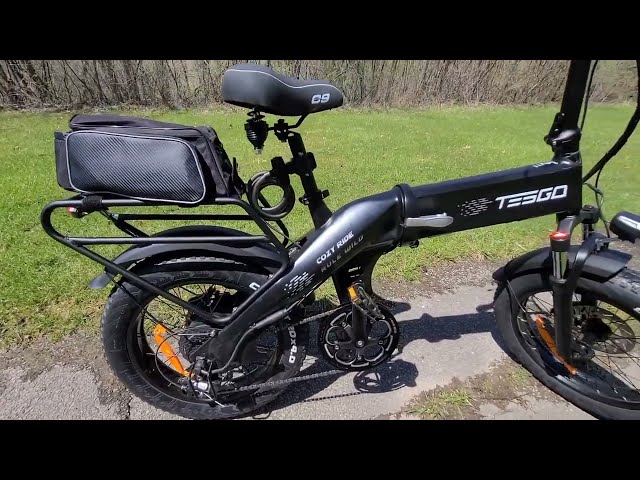 Bike
I recieved the bike a couple of weeks ago. Last weekend was able to test it out. I was able to go 28mph on a very fast peddaling action. Hills, which we have a lot of around here, was no challenge for the bike. I weigh 250 and it handled me just fine. The paint job is cheap, and I recieved it with chips. It was packaged very well and the box was not damaged so I don't know where or how they occured. Customer service is little to be desired. To me a little rude, slow, and not very sympathetic. You pay a lot of money and expect decent results for damaged goods. They gave me a paint pen which I have not recieved yet. Over all though the bike operates very good.
So far so good
So far, I am pleased with the Tesgo STT-S ebike. It arrived safely with only a couple of small paint imperfections for which I was reimbursed. It arrived within 7 days. The bike rides well and has plenty of power. Overall quality seems to be on par with more expensive bikes.
Shipped in 5 days by UPS way ahead of expected date. Live in the country with 100 acres wanted an ebike to sneak in my moose ponds to watch the animals, atv's scared them away. Very hilly 50 m to 130 m elevation and bike got me in no problem with 2 inches of crusty snow. Back road is very icy but tires worked good as long as didn't spin the tires or hit the brakes to hard which by the way are the best brakes I've had on a bike. Ride was good but l ordered a suspension seat to make it even better. I wonder if these tires can be studded, I'm going to run it on the warmer days this winter. Find it's good exercise even if I'm just pretending to be peddling.
P.S. I have stage 4 lung cancer and wouldn't make it past the end of the driveway without the power assist.
Great Bike, Manual not Complete
Haven't had much time to evaluate the bike on the road but it seems like it will be great. The manual doesn't explain anything about how to use and adjust the control panel. Tommy in support has tried to be helpful but this has been a week long process trying to get the information that should have been in the manual.